Residence Permit in Poland
How To Get Residence Permit In Poland?
Looking for Residence Permit in Poland which is issued for 3 years period? BIZBON will help you to prepare all necessary documents apply for a residence permit in Poland.  BIZBON consultants will answer all questions related with business, residence permit and company registration in Poland procedures in order to obtain it.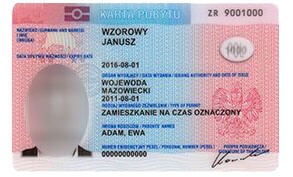 Apply for Temporary Residence Permit in Poland with BIZBON and you will be able to work, do business and live in Poland freely. Moreover, with a Polish residence permit you can travel through whole Schengen area visa free.
BIZBON offers immigration to Poland services by registering a company on behalf of the applicant. Or, you can buy an already established company in Poland. One limited liability company can include 1 -3 shareholders. For the first time you will obtain residency permit in Poland for 1 - 3 years and later you can renew it.
Decision For Residence Permit In Poland
The decision for Residence Permit In Poland in the Polish Migration Department  will be made within 45 days after you submit application form. Then The Polish Migration Department (voivod) will issue you a plastic card (residence permission) to reside in Poland. On expiry of this period, 2 months before the end of the current valid Polish residence permit, you are required to refer to the Migration Department (voivod)  for extension of the existing residence permit.
BIZBON business immigration to Europe consultants recommend
 Apply for Residence Permit in Lithuania for 2 years easier and much faster

Apply for one year multiple Schengen visa in Lithuania in 2 weeks. Easy process
You have to apply for a visa in Poland in the nearest Polish embassy after you will get a positive decision from Polish immigration office or Polish Embassy. During your case process you will be allowed to stay in Poland as long as your visa allows and within 45 days you will be granted for Residence Permit in Poland.
Related information with business immigration
• Polish Business Visa assistance  (★★★★)
• How to employ a foreigner in Poland?  (★★★★★)
• Easy immigration to Lithuania  [price list included] (★★★★★)
 For more information
how to get Residence Permit in Poland

please scroll down the page 
How To Get Residence Permit In Poland Step By Step
The Client sends us the required details (a copy of passport, address of living, email address, telephone number) to [email protected] to initiate the process and to prepare service agreement. After signing the contract your case documents will be prepared within one week and sent to your email to print them out and send us back signed original hardcopies.
After we get documents from Client for a Residence Permit In Poland, BIZBON establishes a company and prepare supporting documents for residence permit in Poland within 3 weeks and send them to Client by a post courier.
Whenever client receives documents from us, he applies for a visa in the nearest Polish Embassy under the basis of company registration in Poland. After visa issuance Client comes to Poland, hires two workers in his own company, makes some business activities and then submits his file to the Polish Migration Department (voivod).
After 45 days, Migration department grants the Client for the Residence Permit in Poland and he has to come and collect his plastic card, which is issued within 5 business days. The first residence permit is issued for one year. Two months before its expiration Client has to renew it.
Immigration To Poland With A Family
If a company's shareholder has already a TRP, he can bring his family members: spouse and children under 18 years they can automatically apply for a Temporary Residence Permit in Poland. They will have to provide only standard documents for immigration to Poland – an application form, photos, passport copies, copy of birth certificate and prove that they have enough money to live in Poland.
Usually, if a person has already a TRP and works in a Polish company or has its own savings in the bank account it is enough to show for Polish Migration Department. Moreover, the family can also arrive and visit the family member, with visitor visa.
It takes time, effort and money to prepare all needed documents for family members entering the European Union, but BIZBON managers and consultants will help you to prepare and collect the necessary documents to the family members to come and successfully enter the university or school quickly, at an affordable price, without stress and not putting off the entrepreneur from his/her direct work.
BIZBON will recommend few kindergartners, which you can select on your own discretion. Also we can offer Lithuanian language lessons in collaboration with the universities, moreover we will give all needful information for successful and perspective spill into the new society.
To receive a Permanent Residence Permit in Poland, the Client must live in Poland for 5 years, pay taxes, and pass a Polish language exam. You can obtain the Polish Passport after 10 years of living in Poland.
Questions and Answers How To Get Residence Permit in Poland
Q: What documents client need if they want to apply for temporary residence permit in Poland on business basis i.e if they are shareholdersor directorsof the companies?
A: Passport, visa, lease agreement, company registry, tax documents, business plan, health insurance etc.
Q: What minimal capital should be of the company? Should it beaspecial type of company if foreigner wants to apply for TRP on business basis?
A: The minimal capital is 5000 PLN. However the capital must be sufficient to run business, so usually the capital is much higher because it is not possible to create profitable business in Poland for 5000 PLN.
Q: Do they need to submit all company documents? Articles of association, excerpt of the companies, proof that foreigner purchased company shares or incorporated company by himself/herself?
A: Yes, articles of association are usually submitted, extract from the registry also.
Q: Do they need criminal records ( when it should be issued in foreigner origin country before applying to institutions in Poland ?)
A: No, it is not necessary but the office may ask for this.
Q: Personal bank statements to substantiate that they have enough money for subsistence (what sum should it be?) company bank statements, invoices, cooperation agreements (if company has those)?
A: Yes, the foreigner must prove that he/she is able to live in Poland, so usually we submit the bank statement which shows the private assets of the foreigner.
Q: Is there a rule that in any foreign company that is running business in Poland, company must employ exact number of Poland citizens in the company ? If yes what salary should be paid?
A: No, there is no such rule.
Q: Do you need labor contracts of employees working in foreigner company?
A: Yes, if the foreigner employs someone we should submit the labor contracts. It is very beneficial if we may show to the office that the company has Polish employees.
Q: What about health insurance?
A: Yes, the foreigner must have health insurance.
Need professional advice? Leave us a message!
Contact us