Advantages of Lithuania
Strategic Location in Europe
Part of the EU, Schengen area and NATO;
Crossroads of North, East and West: proximity to Scandinavia, Western Europe, Russia and the CIS;
The EU's prime transport hub and interconnection of two international transport corridors, air, sea, railway and highway routes Europe's.
Pool of Talent
Among the best educated EU citizens (more than 90 percent of Lithuania's citizens have secondary or higher education);
Among the most multilingual people in EU (90 percent of citizens speak at least one foreign language);
Innovators and authors of world-scale inventions (biotech, lasers).
World-class Business Infrastructure
Globally leading ICT resources (world's fastest download and second fastest upload Internet, Europe's highest fiber penetration);
Hub of five science and business valleys, six business development parks and four logistic centres.
Business Opportunities for All
Global performance of local industries (biotech, lasers, ICT);
Diversified industries.
Investor-friendly Operating Conditions
Low-cost operations in the EU (among the most competitive taxes and salaries) INVEST LT+ program designed to cover the expenses of FDIs (up to EUR 3.5 million support) Corporate profit tax reductions for new technologies and R&D
Part of EU Common Market
Lithuania is a part of the common EU market, ensuring unrestricted movement of goods, services, capital, and dividends within the EU. Member States are prohibited from levying any duties or charges having equivalent effect on goods crossing a border within the EU. Discriminatory taxes, quotas, and measures having an equal effect are also prohibited by laws of the EU. Restrictions on free circulation of services are prohibited as well. Companies working in the Lithuanian market freely operate within the EU market. There are no restrictions on the amount of capital that can be transferred from one EU Member State to another. In addition, Lithuania is a member of the Schengen area which operates very much like a single territory of 25 European countries with border controls for those travelling in and out of the area, but with no internal border controls.
Reliable, Safe and Stable
In the Corruption Perception Index 2010 (carried out by Transparency International), Lithuania is ranked 46th out of 178 countries. In 2011 the Fitch Ratings agency increased Lithuania's outlook from stable to positive and affirmed its long-term foreign currency rating at BBB and its longterm local currency rating at BBB+.
Free
Lithuania ranks 24th (up by nine positions over the year), higher than, for example, Sweden and France and well above the world and regional averages, in the 2011 World Economic Freedom Rating by the Canadian-based Fraser Institute as well as in the Index of Economic Freedom by Heritage Foundation. The Heritage Foundation also ranks Lithuania 13th among 43 countries in Europe. The Fraser Institute granted Lithuania's stable monetary policy the highest ranking, of 9.16 points out of the max 10, whereas the country's regulation system gained 7.7 points, freedom to trade internationally was given 6.9 points, governmental expenditures got 6.7 points, and the legal system and property rights were awarded 6.5 points.
Sea Ports of Baltic Sea Region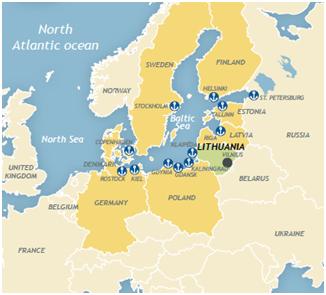 Strategically Located Between Huge Markets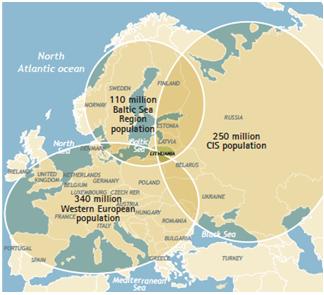 Lithuania is located on the very crossroads of 3 huge markets. It's a springboard to the EU markets (Western Europe and Scandinavian countries), and Eastern markets (Russia and the CIS countries) are also just at Lithuania's side. Lithuania is located in the Baltic Sea Region (BSR), and has always been an active business partner with its neighbours – other BSR countries – the Scandinavian states and Germany, as well as Poland, Latvia and Estonia. Lithuania's trade with BSR countries makes up almost 70 percent of all Lithuania's foreign trade, and about 70 percent of FDI in Lithuania comes also from BSR countries.
Information and Communication Network
Lithuania maintains world leading information and communication technology (ICT) resources and infrastructure. All of the most up-to-date ICT technologies are fully implemented and functioning across the country. The following significant records belong to Lithuania:
World's fastest Internet download speed in 2011
World's second fastest Internet upload speed in 2011
World's 6th and Europe's No. 1 fiber to the home (FTTH) optic communication penetration (23 percent)
Europe's highest fiber optic density
Global leader in mobile e-signature
Europe's densest network of public Internet access points (875)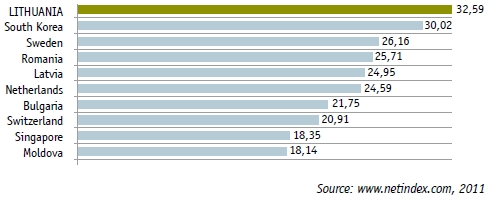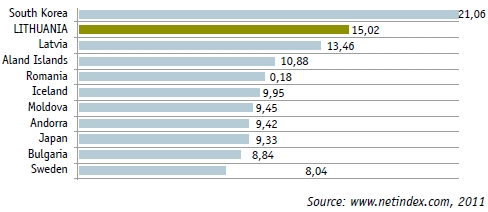 It is no surprise, that the world's first multi-platform mobile application download provider, the GetJar company, which was listed among the world's most innovative Technology Pioneers 2011 by the World Economic Forum, is originally a Lithuanian company. Ilja Laurs, the founder and CEO of GetJar, has been named one of the 40 most influential leaders in the world's mobile communication industry by Informa Telecoms & Media, the leading provider of business intelligence to global telecoms and media markets.
Talent Pool
Lithuania is among the Most Multilingual and Most Educated in the EU. In 2011, the share of the population aged 25 — 64 having completed at least upper secondary education in the EU made up 72.7 percent. Lithuania had the highest share of any EU country with 92 percent.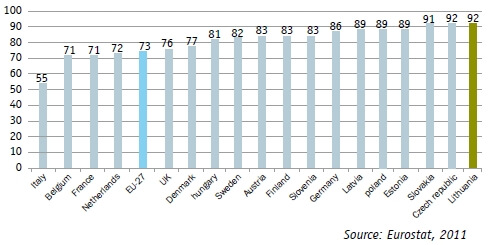 30 percent of the Lithuanian population hold higher education degrees, compared to the EU average of 24 percent. And even 40 percent of the 25 - 34 years old have higher education, which is almost twice as high as the EU-15 average. In 2010-2011, there were about 134,000 students enrolled at Lithuania's 22 universities, and more than 53,000 in 23 colleges. During 2000-2010 more than 366,000 Lithuanians graduated colleges and universities, out of whom more than 278,500 obtained their degrees in universities and almost 86,000 in colleges. Lithuania has one of the EU's most educated populations and continues to possess a pool of well educated professionals for local and international businesses. Lithuanians are a multi-lingual nation, which makes Lithuanian employees even more attractive. According to the Europeans and Languages survey, 90 percent of Lithuanians are able to participate in a conversation in other language than their mother tongue. The EU-25 average is only 50 percent. 50 percent of the population speaks in two foreign languages. Figures provided by Eurostat show that 90 percent of Lithuanians are able to speak Russian, almost 40 percent speak English, and around 20 percent are able to lead a discussion in the German language.
Why You Should Have Choose BizBon.com Business Immigration Consultants?
10 Years of Consulting Experience!
You Will Get Best Quality Service Only!
Thousands of Successfully Approved Cases!
Our Know-How Can Assure Fastest Way of Any Procedure!
Money Back Guarantee!
We Are Working in a Several European Countries (Lithuania, Latvia, Poland, Sweden, Denmark, this list is not complete)!
If You Have a Residence Permit of Lithuania, We Can Assist You to Renew It in Other European country!
European Residence Permit
You can obtain European residency within 1-18 months;
All rules depend on each European country;
When you purchase European company you have a right to apply for a European Residence Permit for one or more years;
In one company can be included minimum 1 person and we recommend not more than 5 persons;
With this residency you can do business and move through all Schengen zone member countries visa free.
Advantages
You can apply for Residence Permit in nearest European Country's embassy (you do not need to come to chosen country to apply for Residence Permit);
No requirement for language skill test;
All nationalities are allowed;
You can travel in Europe (Schengen zone member countries) visa free;
You can use European Hospitals and Policlinics, Banks, get European pension, social benefits and etc.
If You Are Interested, Read Further!
To start a process we need to get from you:
Copy of passport; Address of living; Email; Tel. number; Short business plan explanation, Power Of Attorney.
Choose a country to expand your business and get Residence Permit!
Name
Lithuania(Best Choise)
Latvia
Sweden
Denmark
Poland
Should I purchase a company to get Residence Permit?

Yes

*Yes (minimal investments 35.000 Eur)
Yes
Yes
Yes
How many shareholders in one company can get Residence Permit?

1-4

1-5
1-5
1-5
2-5
How long does it take to purchase a company and prepare documents for Residence Permit application?

2 weeks

2 weeks
1 month1 month
1 month
1 month
Should I notarize documents to start the procedure (ex. Power Of Attorney)?

Yes

Yes
No
 No
Yes
How long does it take to get decision from Migration department after application?

2 months

1 month
18 months
3 months
~6 months
My first issued Residence Permit will be valid

 2 years

1 year
2 years
1 year
1-3 year
Company's Minimal Share Capital, Eur
28.000

(we will form it by ourselves, you do not need to have it)

3.000
6.000
11.000
1.200
After I will receive Residence Permit, what minimal monthly taxes I should pay (Government and accounting included):

~800 per month

35.000 Eur per year

~1'500 per month
~1'500 per month
~ 300 -1'000 per month
Only company registration price (no hidden taxes) Eur

2.500

2.500
6.000
7.000
2.500
Company registration and TRP for 1 person price (no hidden taxes) Eur

5.000

5000
10.000
11.000
6.000
Company registration and TRP for 2 (no hidden taxes) persons price Eur

7.500

7.500
15.000
15.000
8.500
Company registration and TRP for 3 persons (no hidden taxes) price Eur

10.000

10.000
20.000
20.000
11.000
 
BEST CHOICE Order Now!
Order Now!
Order Now!
Order Now!
Attractive Order Now!
For the past years, Lithuania is most attractive country for foreigners and still remains. For this reason we recommend to choose Lithuania and later if you decide you can change your card into other EU country. Other wise, to get straight to Denmark or Sweden or other high developed country it would be to you a very big and expensive challenge.
---
Need more information about Lithuania? Get all details by email instantly!
Enjoy the life in Europen Union
It doesn't matter which European country you have chosen for emigration. After you officially immigrate and get permit to live in any country of the European Union you can live and work abroad in any country where you found better conditions of life, job opportunities or conditions for running business.
Immigration laws of European Union are the same for all its members. Of course each country will have its own peculiarities of immigration laws but its main features that allow citizens and holders of residence permit to live and work legally in Europe are maintained in all European countries.
Immigration to any country is a complicated task that demands time, money, hard work and attention, lots of desire and diligence while preparing immigration documents, applying for visa and adaptation in the country which Customer have chosen for immigration. Of course, immigration to foreign country is not an easy thing to do, but final goal – life in Europe is worth to reach it. Many things are not as complicated as you see now, e.g. studying foreign language. After you come to Lithuania and start living there you will have to speak and understand one of these languages: Lithuanian, Russian, Polish or English language. Many people in Lithuania knows minimum two of these languages.
Life in Lithuania
In the International Living 2011 Quality of Life Index, Lithuania was ranked 36th in the world based on nine different criteria: the cost of living, culture and leisure time, economy, environment, freedom, health, infrastructure, safety, risk, and climate. Lithuania was also listed among 43 countries of very high human development in the Human Development Report 2011 released by the United Nations. One reason why Lithuania is such a nice place to do business is that it is a terribly nice place to be: to live in, to work in, to spend time in; it is pretty and enjoyable; it has a strong and benign sense of national identity that is exciting and interesting; it's full of people who are lively and diligent; and it has a culture that is familiar to you whether you're Russian, American or Danish.
Lithuania offers a comfortable space for a family from abroad to enjoy life with easy access to all sorts of social services. For example, foreign families may apply to international schools, which have specialized education for children from foreign families, as access to an international school is an important consideration of family life. Increasing enrolment at the Vilnius International School, the American International School of Vilnius and Vilnius French School (see Social Institutions on page 60) reflects the growing diplomatic and investor community. Also, Lithuanian universities welcome foreign students eager to enrich their knowledge. Furthermore, private healthcare services are available to Lithuania's visitors in all cities and towns. Eurostat's survey about price levels across Europe revealed that Lithuania is in the list of the Top 10 the less expensive countries in Europe.
Competitive Living Costs:
| | | | | |
| --- | --- | --- | --- | --- |
| |  Vilnius, Lithuania, EUR |  Riga, Latvia, EUR |  Warsaw, Poland, EUR |  Stockholm, Sweden, EUR |
| Monthly apartmenr rent (a furnished 2-bedroom apartment in the city center) | 800-1000 | 800-1000 | 690-1390 | 460-650 |
| Monthly rental of 100 m2 office space in the city center | 600-1700 | 1500-2000 | 1200-3800 | 2100-2550 |
| Hotel accommodation (4-star)/one weekend night | 43-99 | 47-115 | 60-150 | 58-221 |
| Annual tuition of a non-citizen child in an international school for foreigners | 5000-17550 | 3000-10814 | 4169-9676 | 5883-17485 |
| Kindergarten monthly fee (one child) | 35-50 (public) 145- 348 (private) | 35-43 (public) 285-427 (private) | 200-350 | 54-95 |
| Sports club monthly membership | 23-90 | 30-71 | 21-65 | 40-120 |
| Basic medical tests at a private clinic | 17-30 | 8.5-33 | 30-50 | 23-145 |
| Taxi 1 km ride | 0.5 | 0.8 | 0.4-0.65 | 0.85-1.5 |
| 1 minute call from mobile network | 0.03-0.19 | 0.20-0.27 | 0.12-0.45 | 0.05-0.18 |
| 1 minute call from  fixed network    | 0.03-0.22 | 0.03-0.33 | 0.03-0.09 | 0.02-0.06 |
| Car rental for weekend* | 31-113 | 33-65 | 40-83 | 53-135 |
| Theatre ticket for two people | 25-105 | 4-51 | 30-70 | 18-65 |
| Lunch for 2 in the city centre | 29-87 | 34-114 | 18-72 | 73-218 |
*Rates include 24-hour rental period, VAT tax included Source: INVEST IN EU analyst team
Lithuanians enjoy drinking water directly from the tap. Only the inhabitants of Australia and Denmark can enjoy water of a similarly high quality.
*Interesting fact:
In 1940's the standard of living in Lithuania was higher than in Finland.
How You can start? Detailed procedure in step by step
1. Client sends us required details to initiate the process to [email protected]. After we sign a contract, client pays 50% prepayment.
2. Within a week Performer prepares necessary documents and sends them to the Clients email. Client prints documents as per instructions and sends us back signed by a fast post courier.
4. After we will receive documents, within 7-30 days we will prepare all remaining documents (Company and TRP documents – full package)
3. Within a week Performer prepares necessary documents and sends them to the Clients email. Client prints documents as per instructions and sends us back signed by a fast post courier.
5. When company and TRP documents are ready Performer scans registration certificate and sends to the Client by email. And requests Client for the remaining 50% payment. After Performer receives remaining payment, documents will be sent via fast post courier.
6. After Client receives the documents, makes an appointment in the nearest embassy, submits there his documents. And pays document submission fee there.
7. Embassy sends your documents to Migration Department, and decision will be made by this institution.
8. After positive decision is made, Client has to apply for a National Type D visa and not later than in 1 month he has to come to Europe to take his Residence Permit.
9. Client immediately comes to Europe, goes to Migration Department to apply for a residency card.
10. Within 5-10 working days, residency card will made and issued
11. From now foreigner has a right to live, travel through all Schengen member zone countries and do business. Before two to four months of his TRP expiration date client has to apply for a renewal and provide his tax and business actvity documents.
(Terms and conditions can be changed, please contact us for the latest updates)
Contact us